How did Togo get its name?
First things first; the country is pronounced tow-go. It is not pronounced like restaurant take out.
The name Togo comes from the Ewe people who are the largest ethnic group there. "To" comes from (toh) and means "river" and "godo "comes from (gohdoh) meaning "on the other side". Togo means "on the other side of the River".
Despite the name, it is believed the "river" refers to Lake Togo which historically was a very significant source of premium water. Lake Togo is actually a lagoon separated from the ocean by a narrow strip of land.
At one time Togo was called Togoland. Today the official name is The Togolese Republic.
Where is Togo located?
Togo is located in West Africa, it is a small country that is a sliver of land sandwiched between Ghana to the west, and Benin to the east. The width of Togo is only about 71 miles and its length is 360 miles. Burkino Faso is to the north and Togo has a very small, palm tree lined coastline on the Gulf of Guinea to the south.
The capital city Lome' is located on the gulf, in the south. Lome' gets its name from the aloe plants that originally surrounded the area. It is often called the "Paris of West Africa" due to its expansive boulevards and cosmopolitan atmosphere.
Togo is also home to several national parks, one of the most diverse is the Fazao-Malfakassa National Park. It has an array of landscapes including forest, savannah, rocky cliffs, and waterfalls. It is home to 203 species of animals that include: birds, monkeys, antelopes and elephants.
Sadly, Togo has a major poaching problem and has gained a reputation as a major ivory-trade center. In 2015 in Lome', the largest seizure of ivory in African history took place. More than 400 tons of ivory were apprehended, representing over 800 poached elephants. The government has put in place anti-poaching trafficking squads, which has helped to improve this sad situation.
A Brief History of Togo
The earliest history in Togo starts from the 11th to 16th centuries, when tribes moved into the area from the surrounding nations. The ancient tribes produced pottery and tin. The main tribes were the Ewe', the Mina and the Gun tribes, who settled mostly along the coastal areas.
From the 16th to 18th centuries, sadly, the coastal region along with the surrounding areas became known as the "The Slave Coast." It was a major Atlantic slave-trading hub.
In the 1700s, Togo was occupied by the Danes before it became a German protectorate known at Togoland in 1884. Germany used forced labor to bring plantations to the area.
After World War I, Britain and France split Togo between them. In 1956, the British area became part of Ghana known as the "The Gold Coast" What is now Togo became independent from the French in 1960.
The first president was assassinated during a military coup. It is believed he was killed by Togo's next president, Eyadema, who took power and remained the ruler of Togo until his death in 2005. At that time, he was the Africa's longest serving ruler. He was succeeded by his son, who remains in power today, to the dismay of the opposition party, who claims fraudulent and corrupt elections put him in power.
Togolese Culture
Togo is home to about 8½ million people. It is diverse with 39 different tribes and languages. The Ewe', is the largest ethnic tribe, but not by much. The official language is French.
Despite the influences of western religion, Animist and Voodoo are the predominant religions and beliefs in Togo. Only 30 percent consider themselves Christian and only about 20 percent are Muslim.
Voodooism is a belief system that extends to culture, philosophy, medicine, art, dance, and music. Togo has the world's largest fetish market in the capital city. Outside it resembles a flea market but inside, it is full of voodoo dolls, and dead animal parts. Shamans are there to recommend concoctions to cure any of your ailments. It is their equivalence of a pharmacy.
Togo has a rich heritage of oral literature that consists of folktales and legends. Music and dance are an extremely important part of Togolese culture. Each ethnic group has their own unique style. Drums are used extensively throughout the nation along with other percussion instruments to celebrate special occasions and festivals.
There are many festivals in Togo and one of the most popular is the Evala festival. It is an important initiation ritual in the maturity of young men. Every year, hundreds of young men gather in the town of Kara and wrestle each other to establish dominance.
Togo is also home to an UNESCO World Heritage site called, Koutammakou, the Land of the Batammariba. Located in northern Togo, the area features traditional, mud tower houses, called "takienta," which remain the preferred style of living. They are a national symbol of Togo.
Togolese Cuisine
Togolese cuisine is typical of West African cuisine. It also has hints of its colonial history, with beer from Germany and baguettes from France.
The national staple is maize, eaten both on the cob and ground-up in a savory porridge. Local fruits and vegetables are plentiful and include: tomatoes, okra, eggplant, bitter leaf and spinach. Cassava, plantains, and yams are pounded into fufu, a bland starch that is served with savory stews.
Rice is also a popular starch and beans are another important protein. Groundnuts are a primary export for Togo and are also used frequently in their cuisine.
Meat and poultry are plentiful, although fish and shellfish are also extremely popular, especially along the coast and near the nation's rivers and estuaries. They often serve both meat and fish with a chili sauce. Bush meat, including Bush rat, are consumed but you likely won't find them on any restaurant menus.
Palm wine, called sodabe, is made from the sap of palm trees and palm oil is often used in cooking.
For dessert, fruits like mangoes, pineapples and bananas are readily available and make a wonderful, sweet treat. Akpan or akassa are small sachets of fermented maize yogurt. You will see people enjoying this refreshing treat by tearing a small hole in the sachet with their teeth and then sucking the akpan directly into their mouths. Cakes are also a beloved dessert.
Coffee and tea are both consumed in abundance, especially in the morning.
So let's enjoy a Togolese meal:
The Menu
Starter
Main Course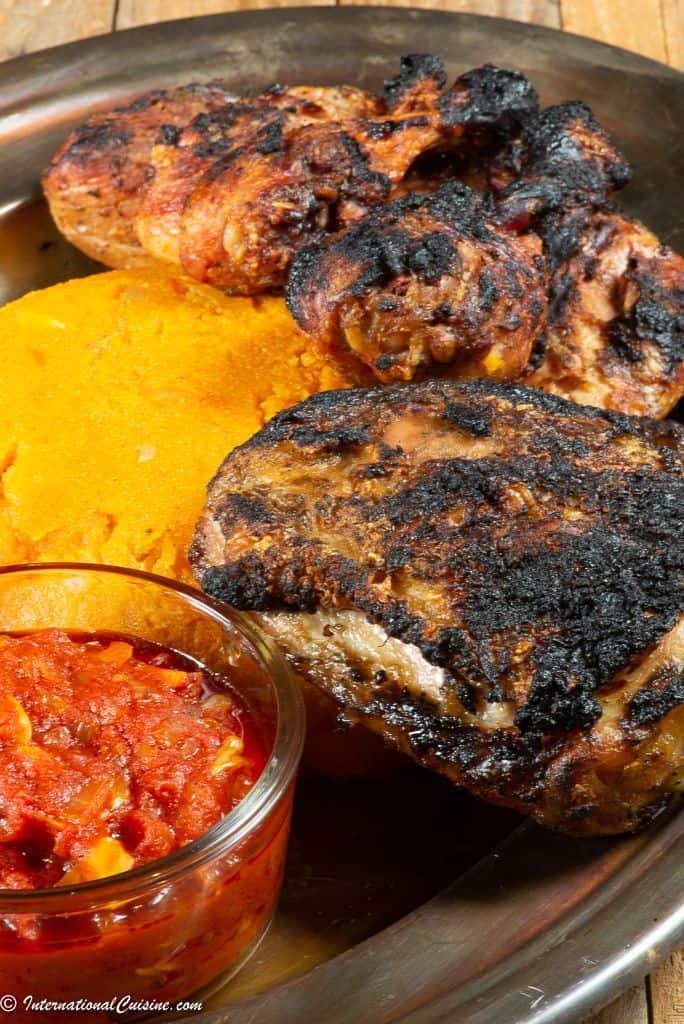 Served with
Dessert
We set the scene with Togo's national colors; green, red, yellow, and white. A white star was placed to represent hope, along with a red rose which is the national flower and a lion figure, representing the national animal. Cotton, and coffee beans, representing important exports, were also placed.
Generally, in Togo, food is consumed without utensils. Only the right hand is used, as the left is considered to be unclean. We put on Kobi Lolo music to get into the Togolese spirit.
Our first course was a super, delicious spaghetti salad. Often this salad is served on a French style baguette, which would make it much easier to eat without a utensil. The mustardy-mayonnaise based dressing was delightful, we loved it!
For the main course, we devoured the juicy, grilled chicken that was marinated overnight in a wonderful spicy marinade. The marinade was made with garlic, ginger, onion, hot peppers and red palm oil. The red palm oil is the essential ingredient in this recipe so that the meat gets nicely charred as it grills.
The grilled chicken, called Koklo Meme was served alongside a very popular starch called Djenkoume. It is a cornmeal, based ball that can be flavored with other ingredients. This one was flavored with tomato and went perfectly with the grilled chicken.
For dessert we had a little, limey cake, called keke that was moist, scrumptious, and topped with groundnuts.
As we say goodbye to this tiny nation of Togo, I leave you with a few Togolese proverbs:
"It is better to walk than curse the road."
"Don't butter the skillet before catching the fish."
"If you hurt the reputation of another, you damage your own."
"Good stew is best to be made in an old pot."
Until next time,
Warmest regards,
Darlene