Namibia gets its name from the Namib Desert, the oldest in the world, dating back 80 million years. Its name aptly means, "Open Spaces." The land is the second, most sparsely populated nation on earth, after Mongolia. It is home to only 2.3 million people and is about twice the size of California. Namibia is located in southwestern Africa. Its neighbors are Angola to the north, Botswana to the east and Zambia, and South Africa to the south. It has a long, western coastline along the frigid South Atlantic Ocean.
The coastline is known as the Skeleton Coast. The cold water of the Atlantic collides with the warm air of the Namib Desert, resulting in a dense, fog that extends out to the sea. Portuguese sailors in the 15th century called it "The Gates of Hell." The local Bushmen tribes call it "The Land God made in anger." It is also suitably named the Skeleton Coast as its coastline is dotted with sea animal graveyards, and numerous ship hulls that met a disastrous fate in the fog. Even human remains can be found there.
The Skeleton Coast is now a national park where you are greeted by two gates bearing a skull and crossbones. It is separated into two parts, the north and south. The northern area is for the most part, inaccessible and home to the Himba people. They only allow 800 tourists per year into this northern area and it is quite expensive. The Himba people are the country's last nomadic herders who live in mud huts and subsist solely on meat. The women lather their skin with a mix of butter fat and ocher, an earthy pigment, containing ferric oxide. They are known for having beautiful hair and skin with a reddish glow. It is believed this mixture is used to protect them from the harsh rays of the sun. They also wear unique ankle bracelets to protect them from venomous creatures. The Himba people have been traveling the Skeleton Coast for centuries.
Aside from the remote Himba people, many creatures reside along the Skeleton Coast. Elephants can be seen sliding down the sand dunes. They are thinner and have larger feet than most elephants but are not a separate species; they have just adapted to the arid environment of the Namib Desert. There are only an estimated 600 desert elephants left. Several volunteer organizations help with the elephant conservation effort. Giraffes, lions, zebras, hyenas and black rhinos can be found as well. One area of the coast harbors a community of 250,000 cape fur seals. The coastal sand dunes are one of the only places on earth where you can experience the phenomena of the "roaring dunes." This happens when the air and sand grains mix to create a loud rumbling sound. The Namib Sand Sea (the dunes) are an UNESCO world heritage site, as is Twfelfontein, a massive, open air, rock art gallery which has over 2000 rock engravings dating back 6000 years.
Aside from UNESCO sites, there are National Heritage sites, as well. One is the Fish River Canyon, located in southern Namibia. It is the second largest canyon in the world, after the Grand Canyon. The south is also where you'll find the Quiver Tree Forest. It comprises 250 specimens of a species of aloe that is known locally as the quiver tree.
The native Bushmen use its branches to make quivers (a holder for arrows.) The forest is home to exceptionally tall trees that are 200 to 300 years old.
Namibia is also home to Etosha National Park, a protected area in the north, considered to be the greatest, wildlife sanctuary in Namibia and where most tourists go for safari. It is ranked the number two thing to do in Namibia. Soussusvlei, ranks number one as a tourist destination, where its famous red sand dunes, surround a salt and clay pan. The dunes, one of which is called, "Big Daddy," are some of the highest in the world, reaching almost 400 meters.
Namibia gained independence from South Africa on March 21, 1990. South Africa was in charge of the territory after Germany, who colonized Namibia back in 1884, lost control after the First World War. Since independence, Namibia has successfully completed the transition from a white minority, apartheid rule, to a democratic society.
The sparse population of Namibia is made up of 11 ethnic groups. About 60 percent of the population lives in the northern region. The southern and coastal areas are relatively unpopulated, due to the extremely harsh environment. The largest ethnic group is the Owambo people. The San, or Bushmen, are believed to be the first inhabitants of the area and are known for their clicking language. The official language of Namibia is English, however most people speak their own tribal language. German was the official language during Germany's rule. Each group has their own rich history and cultural practices that make them unique. There are still a number of German speakers who live in the capital city of Windhoek and in some smaller towns where German architecture is prominent. Many places in Namibia have names of German origin.
As we look into the cuisine of Namibia, South African cuisine, along with German and tribal traditions are the biggest influences. It is also very regional with different dishes being popular in different areas, based on what grows and is available there. Pap, which means porridge in Dutch, is the staple and is made from corn or millet. It is a bland carbohydrate, served with delicious sauces or vegetables and is designed to fill you up. Cattle and lamb there graze entirely on savannah grasses and shrubs and are free from antibiotics and hormones. Venison is also common, as well as other wild game, such as: ostrich, gemsbok, springbok, birds, crocodile and seafood. Oysters are available year round and are highly regarded. Braaivleis (meat barbecue) is the traditional way of cooking meat. Potjiekos, is a spicy stew made with different meats but usually chicken or fish. Typically, potjiekos is made in a three-legged, cast iron pot, cooked over an open flame. Kampana is a street food made from very fresh meat, cooked and then dipped in chili powder and served with a tomato and onion mixture. It is known to be a hangover cure. It is often enjoyed with beer, which is brewed by Nambrew, in accordance with the traditional purity law issued in 1516 in Bavaria. The beer has won several international awards. German desserts such as, schwardzwalder and apefelstrudel, are loved. Biltong (dried meat) and droewors (sausage) are South African specialties that are part of everyday cuisine in Namibia. Some local delicacies include swakopumund (green asparagus) kalahari (truffles) and omajawa, which is a large, fleshy mushroom. These mushrooms appear at the bottom of termite hills, only for a very brief period of time, after the rains in February.
Black and green kalamata olives are also grown in Namibia. There is also a large selection of cheeses that are produced near Otjiwarongo. Mopane worms are another delicacy that belongs to the Omshiwambo ethnic tribe. They are actually caterpillars, found in the north, which are fried until crispy.
So let's enjoy a Namibian meal:
The Menu
Starter
Main Course
Dessert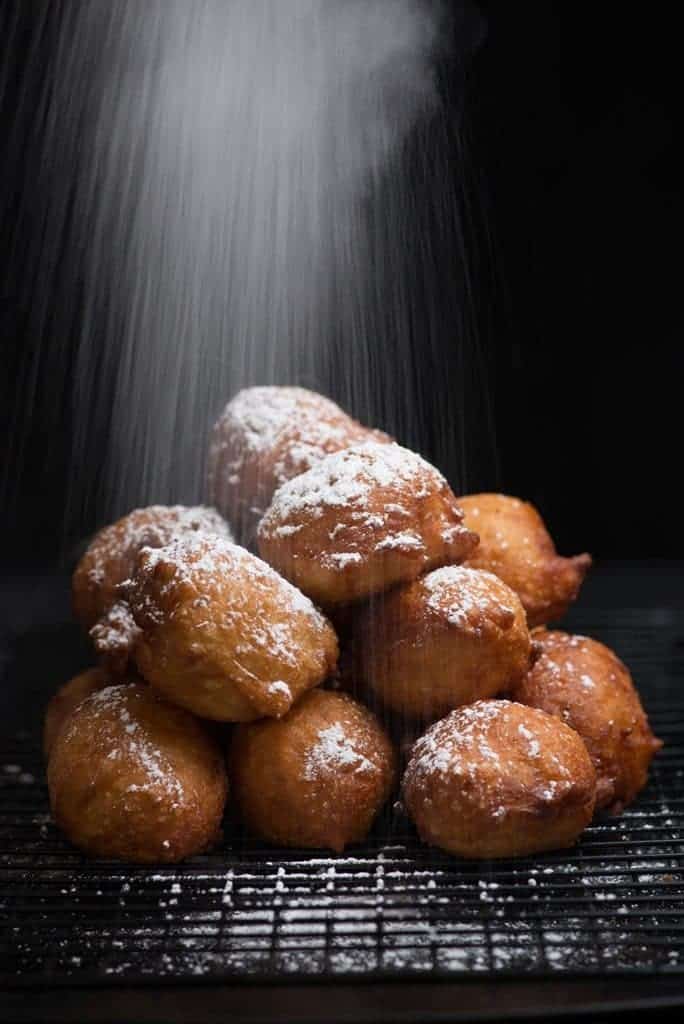 We set the scene with various African animals. They have the largest, free roaming cheetah and black rhino populations in the world. The oryx antelope is the national animal of Namibia. Diamonds were placed to represent their long history of diamond mining, corn to represent the staple known as pap, a cow bell was added to symbolize their love of beef and finally their flag; colored blue, red, green and white. It also has a big full sun on the flag representing life and energy.
We began our meal with a clink of our German style beer mugs to enjoy with the street food known as kapana. We used grass fed, beef, which was grilled to perfection over charcoal. The beef was then cut into small, bite size pieces and seasoned with chili powder and salt and added to a mixture of tomatoes, onions, chili, oil and vinegar. It was amazingly good and I can see why it is a much loved snack throughout Namibia. There is a saying in Namibia that "There is no such thing as a meal without meat."
We ate communally, using only our right hand, which is how food is enjoyed in Namibia. Our main course was served all at the same time. It was boerewors (a handmade sausage) made with beef and pork and flavored with crushed coriander, clove, nutmeg with a hint of brown sugar and vinegar. It was cooked on a BBQ, which is called a braaivleis, which is an extremely popular way of cooking meats. The sausage was accompanied by pap (which was made from cornmeal) and a tasty, fried cabbage dish that was flavored with caramelized onions and turmeric. The combination of flavors was incredible and we loved them all.
For dessert, it was fat cakes. Yes indeed, more balls of dough, fried to perfection. They were crispy on the outside, soft and light on the inside. They can be eaten plain or sprinkled with confectioners sugar or jam. We had them sprinkled with a bit of sugar and well, you know how much I love fried dough. Add fat cakes to my list of favorites.
As we say goodbye to this fascinating country of Namibia, I leave you with a few of their proverbs:
"A diamond's father is coal, yet it regards itself as upper-class."
"Elephants carry each other."
"Envy and greed grow on the same stalk."
and
"The earth is not ours, it is a treasure we hold in trust for future generations."
p.s. Namibia is the first country in the world to incorporate environmental protection into its constituition.
Until next time,
Warmest regards,
Darlene